It's Monday morning. I hope you all had a good weekend!
I'm grateful for a wonderful weekend, albeit a very busy one. Yesterday was great, the meal turned out well, and we had a very nice time of fellowship. We ended up having 38 people here!
Today I'm happy to wake up looking forward to a quiet, "normal" day. Over 12 hours of people, people, people! Although it's fun and needed, it's exhausting.
I'm extra grateful that tonight we've been invited over to another family's home for the evening meal. A little quieter tonight since it'll only be us and them. And, we get to enjoy someone
else's
labor of love! Yay!
Today we'll straighten up the mess a little, do some schoolwork, and drop those
anchors
back down.
Anchors are things that we instill in our day that keep us grounded, so to speak. I learned this from
Dr. Raymond Moore
, one of the early homeschooling pioneers, who wrote a lot of eye-opening books, one being
"Better Late Than Early."
Anchors are times in your day that you and your family can count on happening. They bring a sense of order
.
Some anchors could be:
Breakfast at 8am
Chores
Lunch at noon
Afternoon Tea/Quiet Time at 3pm
Afternoon Chores
Dinner at 6:30pm
Family Time in the evening
Tuck in and prayer before bed
Very simple, ordinary things.
Some days even just meals and bedtime at the expected time bring a sense of order and peace to a family.
When the children can count on these times happening most days, they know what to expect and it keeps them a little grounded.
Obviously, we can't keep as many anchors down when we're not at home, or when special circumstances come up. And it's nice to have healthy diversions and such. But, for the most part, we try to keep our anchors down and the
children are much more settled as a result. And
when the children are settled and happy, the parents are more settled and happy.
Just a simple little thing that works. I'm grateful for anchors, especially our eternal Anchor, Jesus Christ, Who keeps us grounded even when we have no anchors of our own in place.
"Though the angry surges roll
On my tempest driven soul,
I am peaceful, for I know,
Wildly though the winds may blow,
I've an anchor safe and sure,
That can evermore endure."
For the complete lyrics to this beautiful hymn, click
here
. What do
you
think about anchors?
Join Brenda today at
Garden of Learning
for lots of inspiration on gratitude.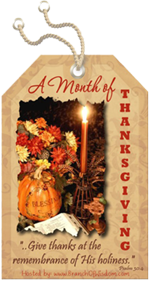 I've also linked up with
Branch of Wisdom for "A Month of Thanksgiving"
Visit there for help in counting your blessings!
Have a blessed week, friends. Please tell me about
your
weekend or upcoming plans for your week!